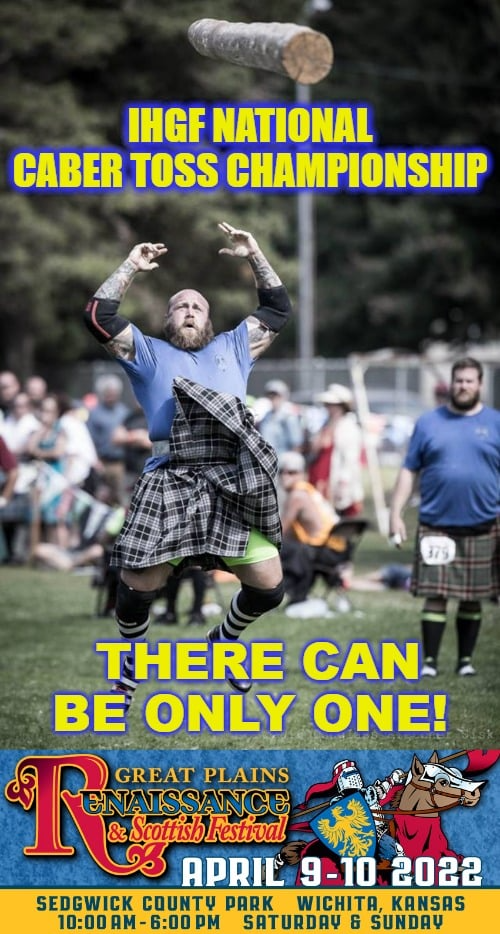 There can be only one! It all takes place as part of the 17th Annual Spring Great Plains Renaissance and Scottish Festival April 9th – 10th, 2022 in Sedgwick County Park in Wichita, KS. The International Highland Games Federation President Francis Brebner has graciously awarded the IHGF National Caber Toss Championship to the Wichita Highland Games! What does that mean? The winner of the Caber Toss claims the crown as the IHGF National Caber Toss Champ! We are greatly honored to host these world class Olympic level events right here in Wichita. Be part of the action and come out and support local events and these great athletes, some of who will represent the USA in the 2022 IHGF World Amateur Highland Games Championships!

What is a Caber Toss?
The caber toss is the event that most people most often associate with the Highland Games and is really thrilling to behold! The primary objective is to toss the caber so that it turns end over end, falling away from the tosser. Ideally it should fall directly away from the tosser in the "12 o'clock" position. The distance thrown is unimportant.
The tosser balances the caber upright, tapered end downwards, against his or her shoulder and neck, the caber being supported by stewards or fellow-competitors while being placed into position. The tosser then crouches, sliding their interlocked hands down the caber and under the rounded base, and lifts it in their cupped hands.
While standing, the tosser must balance the caber upright; this is not easy with the heavier end at the top, and less-experienced tossers may be unable to stop the caber falling to one side after lifting it. The tosser then walks or runs a few paces forward to gain momentum, and flips the tapered end upwards so that the large end hits the ground first, and, if well tossed, the caber falls directly away from the tosser.
Weight and strength are essential for success, but technique is also important for balancing the caber when lifting it, and flipping up the held (tapered) end to promote a clean toss.